Boekhouden in het Engels, 50 Engelse boekhoudtermen!
Tags: Business English, Engelse woorden(lijsten), Personeel en organisatie Engels, Zakelijk communiceren in het Engels
Ben je boekhouder of accountant bij een internationaal bedrijf dan zijn er een aantal:
Engelse boekhoudtermen die je moet kennen.
We hebben 50 Engelse boekhoudtermen voor je verzameld.
Boekhouden in het Engels is naast rekenwerk ook taalwerk. Lees verder!
Misschien komen ze je bekend voor de Engelse boekhoudtermen. Vaak wordt de Engelse benaming al gebruikt. Maar er zullen ongetwijfeld ook Engelse boekhoudtermen bijzitten die je nog niet kent.
Boekhouden in het Engels
Maar eerst, wat is eigenlijk het verschil tussen een 'bookkeeper' en een 'accountant'?
Bookkeeping (or recordkeeping)
Bookkeeping refers to the process of accumulating, organizing, storing, and accessing the financial information base of an company (on a daily basis).
Accounting
The term accounting is much broader. It might involve the designing of the bookkeeping system,
and analysing and verifying the recorded information. Accountants give the orders and bookkeepers follow them.
Je zult zien dat in de diverse woordenboeken er verschillende vertalingen van de woorden 'accountant' en 'bookkeeper' worden gegeven.
Voor de duidelijkheid:
De Engelse term voor 'Accountant' = 'Auditor' en komt van het woord 'auditing'.
De Nederlandse titel 'accountant' is een beschermde titel/beroep.
De Engelse term Accountant wordt vaak gebruikt voor 'boekhouder en/of controller'.
'Boekhouder' is in Nederland geen beschermde titel, iedereen mag zich boekhouder noemen.
Kijk voor meer informatie op deze site.
Naast Business English moet je als professional in een internationaal bedrijf ook kennis van financieel Engels hebben.
Heb je een andere functie of een van jouw collega's bekijk dan ook de woordenlijsten om je zakeljk Engels te verbeteren
De competenties die een boekhouder moet hebben:

Betrouwbaarheid: Reliability
Voorzichtigheid: Prudence
Accuraat: Accurate
Integer: Integrity
Eerlijk: Honest
Aandacht voor detail: Attention to detail
Analyserend vermogen: Analysing skills
Communicatief: Communication skills
En je moet als boekhouder natuurlijk ook om kunnen gaan met stress.
Vaak moeten cijfers op een laatste moment, net voor een presentatie aangeleverd worden. Denk ook aan de einde jaar afsluiting.
50 Engelse boekhoudtermen
Assets: alle middelen die een bedrijf bezit/activa
The company's assets were easy to calculate, but it was difficult to quantify the value of the company's goodwill.
Balance Sheet: de balans
We studied the balance sheet carefully to see if the assets exceeded the liabilities and shareholders' equity.
Debit: de debetzijde van de balans
He recorded the purchase of the new telephones as a debit entry.
Credit: de creditzijde van de balans
He saw that the total debits didn't equal the total credits, so she had to check each entry again.
Profit: winst
In order to decide if the company was worth investing in, they wanted to look at the profit it had been making over the last 3 years.
Revenue: omzet
That company has experienced a decrease in revenue due to the financial crisis that we had.
Accounts Payable: rekeningen van te betalen posten (crediteuren)
All of the accounts payable need to be cleared before we can invest in new computers again.
Accounts Receivable: te ontvangen posten (debiteuren)
You can calculate the accounts receivable by adding up all the invoices the company generated over the last month.
Financial Statements: documenten die de financiële situatie aangeven (de balans)
The accountants were all busy working on the financial statements at the end of the year.
Creative Accounting: creatief boekhouden
As soon as the potential investor realized they had done some creative accounting, they decided to draw back.
Engelse boekhoudtermen: BTW
Value Added Tax (VAT): Belasting Toegevoegde waarde (BTW)
The accountant had to calculate the Value Added Tax in order to issue the invoice
VAT Return/declaration:BTW Aangifte
Make sure to hand in your VAT return on time
VAT Number: BTW nummer
Do not forget to state your VAT number on all documentation
VAT adjustment: BTW aanpassing
Next year there will be a VAT adjustment
File your VAT declaration on time: dien uw BTW aangifte op tijd in
You risk getting a fine if you do not hand in your VAT declaration on time
Engelse boekhoudtermen: kosten, balans en vermogen
Kosten / Costs
Vaste kosten
Fixed cost
Variabele kosten
Variable cost
Kapitaliseren van kosten
Capitalising of Expenses
Kostendrager
Cost carrier
Kostenplaats
Cost center
Kostensoort
Cost categories
Periode toerekening
Period recognition = Accrual accounting

Balans

Balance sheet

Activa
Assets
Vaste Activa
Fixed Assets
Immateriële Activa
Intangible Assets
Vlottende Activa
Current Assets
Debiteuren
Debtors
Passiva
Liabilities and Equity

Aandelen

Gewone aandelen
Common shares
Preferente aandelen
Preferred stock
Reserves
Provisions

(Eigen) vermogen

Equity, share capital & reserves

Kort vreemd vermogen
Current liabilities
Crediteuren
Creditors
Werkkapitaal
Working capital
Winstgevendheid ratio's
Profitability ratio's
Marge
Margin
Winst
Profit
Operationele Winst / Omzet.
Operational Profit / Revenue.
Solvabiliteit ratio's
Solvability ratio's
Verhouding Vreemd vermogen/Eigen vermogen
Debt to Equity ratio
Winst per aandeel
Earnings per share (EPS)
Netto winst
Net profit
Liquiditeit ratio's
Liquidity ratio's
Omloopsnelheid voorraad
Inventory turnover
Omloopsnelheid kapitaal
Asset turnover
Totaal activa
Assets / Revenues
Rapportages/Reports/Statements
Jaarverslag: Annual report
Vennootschappelijke jaarrekening: Company Financial Statements
Resultaten per bedrijfsonderdeel: Results of Operations by Business Unit
Analyse van bedrijfs- en financiële resultaten: Operating and Financial Review
Kasstroomoverzicht: Cash flow statement
Accountantsverklaring: Auditor's Report
Geconsolideerde balans: Consolidated Balance Sheet
Engelse boekhoudtermen: aanmaningen
Vaak niet altijd het leukste werk, aanmaningen. Helaas betaalt niet iedereen zijn factuur op tijd. Er moet dan actie worden ondernomen. Dat kan per telefoon maar vaak wordt de aanmaning op schrift gesteld. Dit kan per brief of per e-mail dan verstuurd worden.
We hebben een aantal voorbeelden van aanmaningen.
Een eerste herinnering:
Dear Madam/Sir,
We write to inform you that we have not yet received payment of invoice B365 for € 1545,00 due on 2-8-2020.
We are sure that it escaped your attention but we would appreciate if the invoice is paid by 25-8-2020.
If payment has already been made, please disregard this letter. If you have any queries, please contact us.
Kind regards,
(name company)
(Your name)
(Your title)
Een dwingende aanmaning:
Dear Mr Blight
concerning invoice B365 for € 1545,00
We recently brought to your attention the delayed payment of the above invoice. Payment is now considerably past due and we are concerned that to date we have not received payment of invoice B365 from you.
We would request immediate payment by tomorrow 2-9-2020. I will contact you by phone tomorrow to discuss the matter.
Regards,
(name company)
(Your name)
(Your title)
Een aantal handige voorbeeldzinnen:
We write to inform you that we have not yet received payment of invoice …. for the amount of …. due on …. .
We would like to remind you that invoice …. dated …. is now …. days overdue for payment.
In spite of previous reminders, the invoice specified above remains unpaid.
Mr Dorset of our financial department, recently brought to your attention the above referenced invoice via our email of 3-9-2020.


Met meer druk:
Failure to settle the outstanding invoice …. will force us to …. .
Payment of invoice … has not been maid yet, please give this your prompt attention.
The amount of …. , invoice …. , is now considerably overdue and we are concerned that to date we have not received a payment from you.
Please be assured we value our relationship and we trust that the mentioned procedure will not be necessary.
We will claim interest at the statutory rate in relation to the outstanding amount of …. . All costs of this process will be for your account.
Afsluitend:
If payment of invoice …. has been made within the last few days, please ignore this reminder and accept our apologies.
We would like to thank you for your quick response.
If payment has already been sent, please disregard this reminder.
Please, if you have any queries, contact us.
Engelse boekhoudtermen op jouw internationale salarisstrook
DUTCH  – ENGLISH
Salaris Periode = Period of pay
Personeelsnummer = Employee number
BSN = Dutch social security number
Geboortedatum =  Date of birth
Afdeling/Functieomschrijving = Job role
Datum in dienst  = Date you started your employment
(Bruto) salaris/uurloon = Gross salary (before tax)
Netto bedrag = Net salary
Minimumloon = Minimum wage
Sociale verzekeringen = Social security contributions
Reiskostenvergoeding + Travel cost / Transport reimbursement cost
Je moet dus af en toe zakelijk maar wel direct communiceren en je mening geven in het Engels. We hebben meer dan honderd Engelse voorbeeldzinnen voor gesprekstechnieken.
Engelse Boekhouduitdrukkingen
Wil je helemaal goed voor de dag komen leer dan ook een aantal Engelse uitdrukkingen die met geld te maken hebben. Vooral als je met een native speaker communiceert maakt dat indruk.
Put your money where your mouth is
Wij zouden zeggen: 'geen woorden maar daden'. Niet alleen praten maar ook actie ondernemen.
'I heard enough John, put your money where your mouth is'.
On the money
Heel precies, accuraat en correct iets weergeven.
'I think his judgement of the situation is right on the money'.
Money talks
Als je geld hebt staat (bijna) alles tot je beschikking. Het wordt ook wel gebruikt als men het over omkoping heeft.
'They told me it would take 6 months to complete. We paid them some extra and you see … money talks, we will get it next month'.
Get your money's worth
Als iets heel voordelig is en/of van goede kwaliteit. Als iets het geld waard is.
'This jacket lasted for five years. I really got my money's worth'.
Penny Pincher
Dit is iemand die heel goed oplet wat hij/zij uitgeeft, op het gierige af.
'Don't expect a big present for your birthday, she is a penny pincher'.
Money to burn
Geld uitgeven als water.
'He must have won the lottery because he seems to have money to burn'.
Pour money down the drain.
Geld uitgeven aan waardeloze of overbodige dingen.
'Buying all those gadgets is like pouring money down the drain'.
Be worth its weight in gold
Als iets van grote waarde voor je is.
'This advice was worth its weight in gold'.
Money doesn't grow on trees
Wordt gebruikt als je wilt zeggen dat geld niet ongelimiteerd beschikbaar is.
'I can't buy this bike for you after you just getting a new watch. Money doesn't grow on trees, you know!
Foot the bill
Je gebruikt dit om aan te geven dat jij de rekening betaalt.
' Choose whatever you like and enjoy your dinner I'll foot the bill'.
Wil je nog meer Engelse boekhoudtermen?
Ontvang tips en een mooie korting op onze E-boeken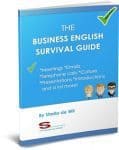 Misschien vinden anderen dit artikel ook interessant om te lezen, hieronder kun het delen. Bedankt.

OPSLAAN ALS PDF, PRINTEN OF MAILEN