Engelse Marketing en Sales terminologie
Tags: Business English, Engelse woorden leren, Gesprekken voeren, Onderhandelen in het Engels, Zakelijk communiceren

Marketing en Sales terminologie
Over marketing en sales zijn vele boeken geschreven. Hieronder willen we je in het kort het verschil uitleggen in het Engels. Ook hebben we een lijstje bijgevoegd met bruikbare termen.
Handig als je zakelijke gesprekken voert of moet onderhandelen over condities of prijzen.
Sales = Sell the products or services that we can deliver
The job of sales is to "sell what we can offer or what is in stock". A company will have specific products or services. The job of sales is to sell these products or services.
With sales you can develop relationships with customers. You start with the initial talk, help your customers to make a decision, overcome objections, negotiate prices and terms and  work to be sure that customers are happy with the product or service.
Marketing = is an ongoing communications exchange and engagement, with customers in a way that educates, informs and builds a relationship over time, now and for the future.
The key job of marketing is to understand the marketplace from the perspective of the customer. Marketing is to direct and lead the company toward the segments, or groups of customers where the company can profitably compete. Without marketing, no sales
If nobody knows about your product or service there won't be any sales. Markets are constantly changing.  The job of marketing is to stay ahead of the changes and anticipate at the right time.
Engelse Marketing en Sales terminologie:
A-C
After sales service
Service that continues after the sale of a product (or a service) you provided (maintenance, updates, etc.)
Agent/middleman
Person or company that acts for another and provides a specified service.
B2B e-commerce
Business to business e-commerce: use of commercial networks, online product catalogues, websites and other online resources to inform and reach new customers.
B2C e-commerce
Business to consumer e-commerce: online sale of goods and services directly to consumers via websites.
Benchmarking
The comparison of your products or services with that of competitors. The comparison can be focussed on price, service, delivery time etc.
Buyer
Any person who makes a purchase or a person employed by the company to buy stock.
C-D
Cash refund offer
Offer to pay back (part of) the purchase price of a product to customers.
Chain store
Two or more shops or outlets that have the same owner and sell almost the same merchandise.
Close the deal
Finalizes a sale or service.
Convenience store
Small shop located near a residential area that opens long hours, often seven days a week.
Coupon
Certificate or voucher that gives customers a saving when they purchase a specific product or service.
Deal
A business transaction.
Department store
A large shop or store that carries a wide variety of product lines.
Discount
A reduction in price.
E-G
E-commerce
Buying and selling by electronic means, primarily on the internet via websites.
E-marketing
Promotion of products and services over the internet often on social platforms.
Extranet
Network that connects a company with its suppliers and distributors
Follow-up
Maintain contact after a talk or sale to ensure customer satisfaction.
Franchise
Association between a company (franchiser) and an independent business person (franchisee) who buys the right to own and operate a unit or service in the franchise system.
Guarantee
A promise that product will be repaired or replaced if faulty.
G-P
Intranet
A network that connects people to each other within a company.
Joint venture
A way of entering a (foreign) market by joining with a foreign company to manufacture or market a product or service.
Market leader
The company with the largest market share in an industry.
Mark up
Percentage of the price added to the cost to reach a selling price.
Opinion leaders
Influential members of a community, group, business or society to whom others turn for advice, opinions, and views.
P-W
Packaging
Designing and producing the container or wrapper for a product.
Product line
A group of products that are closely related and often are complementary.
The 4 P's
Price, Product, Place and Promotion.
Representative
A person who represents and sells a product or service for a company.
Telephone marketing
Using the telephone to sell directly to customers often referred to as 'cold calling'
Trade fair An exhibition at which companies in a specific industry can show or demonstrate their services or products.
Viral marketing The internet version of word-of-mouth marketing. If your product or service goes 'viral', it is shared on the internet.
Wholesale To sell goods and services to those buying for resale (e.g. a shop) or for business use.
Of bekijk de inhoud van The  Business English Survival Guide
Vele onderwerpen op het gebied van Zakelijk Engels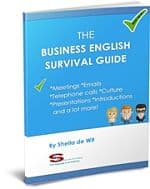 Opslaan als PDF, printen of e-mailen